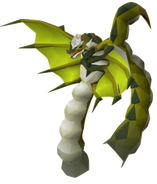 Zulrah is a level 725 solo-only snake boss with 12,500 HP. You can only harm it with Ranged or Magic.
Zulrah is a very difficult boss.
Zulrah is part of the Completion Cape.
You can get to Zulrah by using the "Global teleport" interface.


​​
When Zulrah is green, it attacks with Ranged.

At the end of each pattern a green Zulrah will alternate between Magic and Ranged attacks. The style used first depends on which side of the arena Zulrah spawns at.
If the player takes too long to kill Zulrah, a green Zulrah may spawn that is identical in regards to attacks to the turquoise version, attacking with Magic and Ranged.

​​​​

When Zulrah is turquoise, it attacks with Magic and Ranged.

 

When Zulrah is crimson, it spreads toxic fumes over the area and attacks at the player's recent spot. If they are caught by the Melee attack, they will also be stunned.
DroptableEdit
Community content is available under
CC-BY-SA
unless otherwise noted.